Estimated reading time: 5 minutes
Updated June 2022
Klimmek Furniture have built a great reputation over the years thanks to the quality of the bespoke furniture that they produce for both business and residential projects. Each piece of furniture Klimmek Furniture produces is individually designed and made in their Rathcoole, workshop.
As experts in the field, Klimmek Furniture know the importance of having great dining room furniture and the effect it can have on an entire room.
RELATED: THE MAN BEHIND THE KLIMMEK FURNITURE BRAND
It Doesn't Need to be Boring!
While dining room furniture at its core needs to be functional and serve a specific purpose, it doesn't have to look boring. There is nothing stopping you having a funky cutting-edge design – if that's what you want. That's the beauty of choosing custom-made furniture and that's what Klimmek Furniture specialises in.
Your Guide to Choosing a Dining Table
The first thing you need to think about is the room that the dining table is going to go into. How bright that room is, how much space you have, and how often the dining room is used.
While the type of table best suited to your living space is a matter of personal choice, here are some thoughts to consider:
Dark timbers have gained popularity although some will choose to go for a mix of light and dark timbers. For past commissions, we've used walnut with sycamore inlay, or fumed oak with Zebrano detailing, which work well together.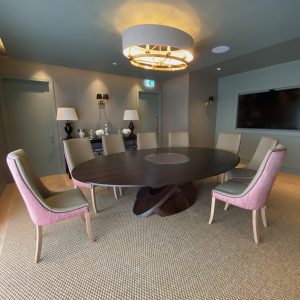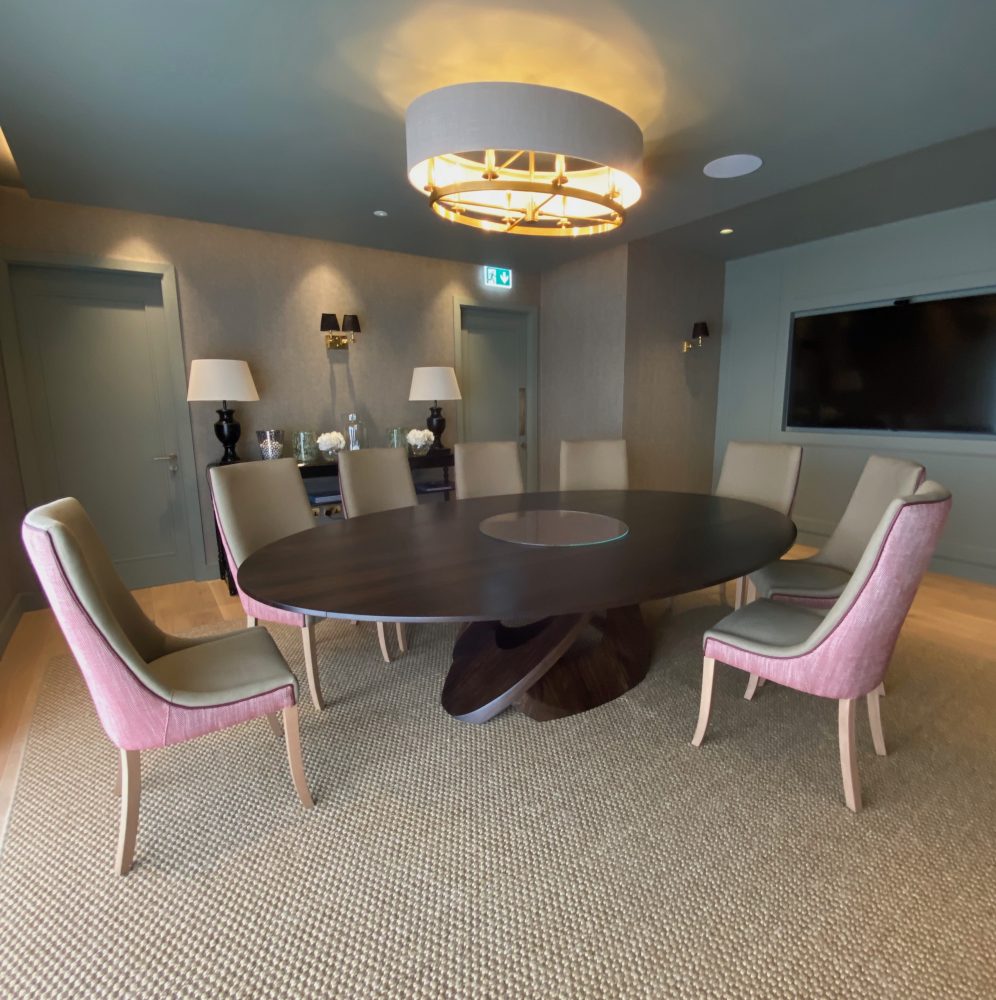 Small Rooms
For smaller rooms a round table is both visually and practically a more logical choice. It's possible to seat more people at a round table – fitting up to ten at an 8-seater table. This would be uncomfortable at a rectangular table where the corners and legs would need to be negotiated. Visually a round table with a pod base takes up less space, and that's particularly important in apartment living.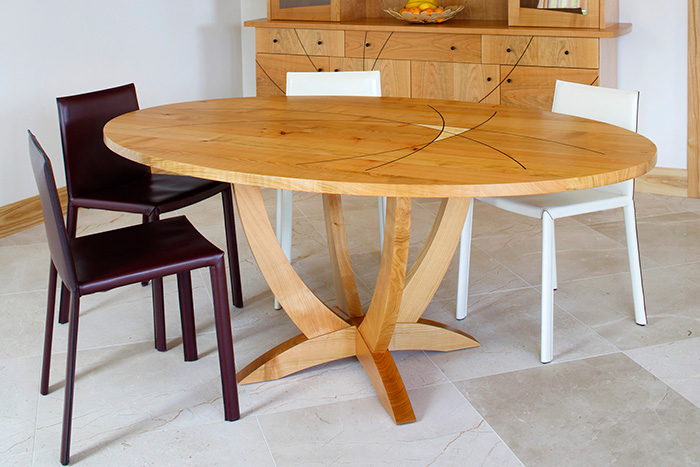 Chairs
Leather chairs are always a good option but look for clean lines and colours that you will still love in five years' time. Stackable seating is a great option as it allows for some extra matching chairs to be discreetly stored elsewhere. An example is our Stave chair below which can stack up to 4 chairs.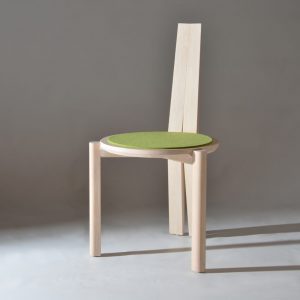 Large Rooms
In a large formal dining room, a long table with a stunning base can really make a statement. Large dining chairs in matching timbers with a contrasting seat pad enhance the look of the room. Also, rather than use carvers, some are choosing to use tall armchairs to soften the atmosphere.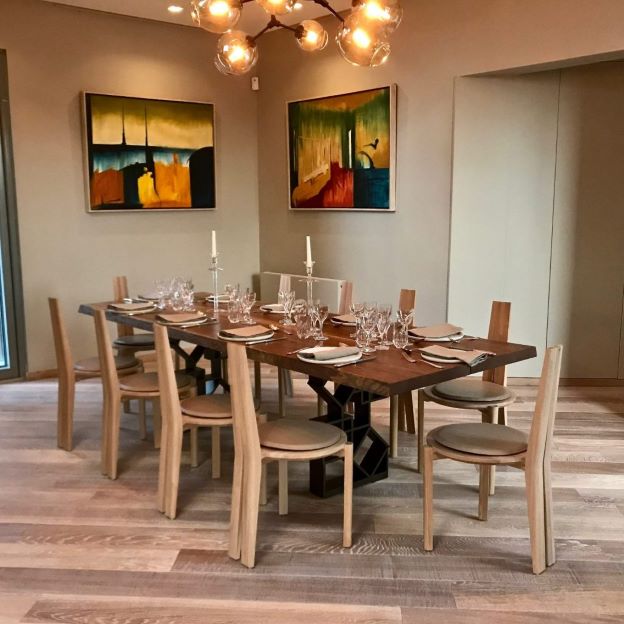 Research Before You Buy
Dining tables and chairs are normally a large investment, whether you buy off-the-shelf or commission furniture to precisely meet your needs.
Either way, we recommend that you ask yourself the following questions before making any purchase:
What is the Primary Purpose?
Will the furniture be used daily for family meals and homework or just for formal meals, dinner parties and special occasions?
How Often Used?
Is the table going to have to endure daily wear and tear? If yes, then you need to ensure that it has a hard-wearing finish and is easy to maintain. If, however, the table is for formal use only, it can be more ornate.
Which Chairs Are Best?
Are chairs going to endure lots of wear and tear? Will they be used multiple times each day by the family? Are there kiddies crawling over and under as they create forts and castles? If yes, the chairs need to be able to take the abuse, be light and easily cleaned. If, however, they are for more formal use you, can go for a delicate design with a more unique finish.
A Little Research Goes a Long Way
A little research into the wood that you choose for your dining table could avoid making a costly mistake. To find out more about the different types of woods click here. That research means, once your dining furniture, or any furniture for that matter, is installed in your home, you're going to love it and want it in your home for years to come.
And lastly
If you have a design idea for your home, and would like to talk with us about it, get in touch today. To organise a call, click here