We recently completed a project involving two meeting rooms. The project would involve both cabinetry and the integration of sliding doors into existing panelling.
The Client Requirement
Earlier this year a long-standing client (since 1987) asked us to design and install a system of sliding doors into existing wall panelling where, when open would reveal a large display monitor and camera.
The Process
The existing panelling was in walnut and as we'd expected, it had changed colour since it had been installed as part of the original building fit out. To make the installation as inconspicuous as possible it was decided to re-use the existing wall panels for the outer doors.
When closed, the doors would be flush with the existing panelling and the new sliding mechanism would move them forward by 5 cm allowing the doors to be moved in front of the fixed wall panels both left and right.
First steps were the removal of the existing panels. Once that was done, we cut a large hole into the plasterboard partition behind. That allowed us to then install the support frame and recess that would house the monitor and camera.
At this point, cables and sound insulation was fitted behind the framing and over existing cabinetry which faced into the corridor outside the room.
We then fitted the sliding track mechanism and fitted the fixed inner and outer panels.
The last step was to hang the four existing panels which had been converted to two sliding doors using metal supports behind.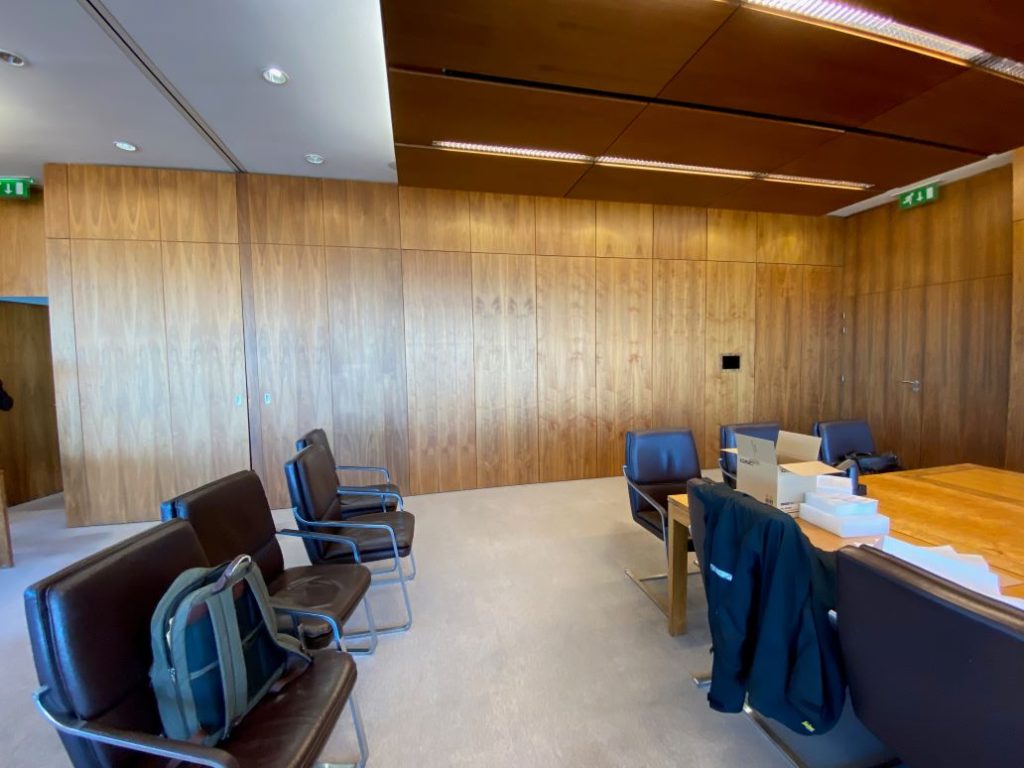 Room Two
At the same time, we also replaced an existing cabinet in an adjoining room so that a larger monitor could be fitted. In this cabinet we opted to use a pocket sliding door mechanism with the doors folding onto each other to allow to slide back into the cabinet, leaving only a small projection which allows the panels to be pulled out of the cabinet when required.
And finally…
A big thank you goes to Jon Kenny and Attila Nagy for their hard work in the workshop and onsite. And we are delighted to report that the installation was completed to our client's satisfaction.