Estimated reading time: 4 minutes
Are you someone who works from home full-time or maybe 2-3 days a week?
If you've had enough of working from the sofa or kitchen table and would love a dedicated workspace that could separate you from the normal humdrum of home life, read on.
Choosing Your Workspace Location
When planning your new workspace, one of the first things you'll need to think about is where in your home it can or needs to be located. And that's going to come down to practical things like the size of your home, and the needs of the people living there. 
Working style is also a factor.  Are you solitary, quiet, head down with absolutely no distractions wanted or someone who needs to work while watching over young kids at home.  Each of these factors will play their part in where you choose to locate your workspace. 
Once you've decided on where, the next things to consider are
Desktop size
Storage for books/equipment e.g. printers, scanners
Access to power points
Lighting
Custom-Designed Workspace
Now before you head out to buy a desk, storage, lamp, and chair and have the home toolkit at the ready, something to consider is having your workspace custom designed.
While it might seem like an expensive option at the outset, if working from home is a long-term plan then it is worth the investment.
One of the biggest benefits of having a custom-designed workspace is, the shelving, storage and desk are built to suit your specific needs, and within the confines of the space available in your home.
The Multifunctional Workspace
Below is an example of just that. A client commissioned us to build a workspace that needed to fit into a lobby area between a bedroom and an en-suite bathroom.
Aside from operating as a dedicated home office, the unit needed to double up and function as a wardrobe. Below are some images taken from the completed unit. Above the drop-down desktop, is a high-level pull-down hanging rail while below the desktop are two linen drawers. And for lighting, we put in integrated LED lighting with motion and proximity sensors, that switch on or off when doors open.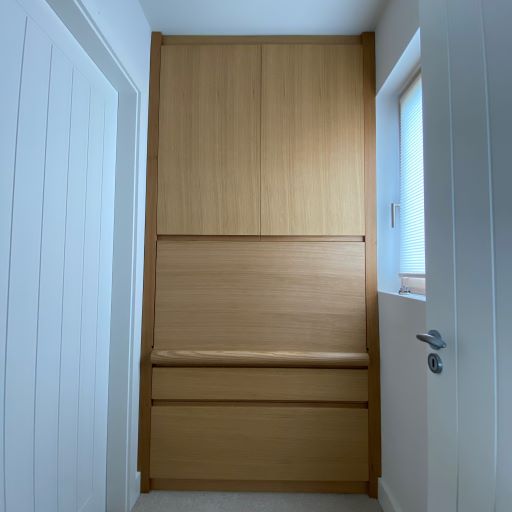 The Space Saving Desk
For those who are living in a compact home, and space needs to be maximised to the fullest, we designed one of our biggest sellers since the pandemic – the Fold Table.
The Fold Table comes in two widths and heights so that you can work sitting or standing. It is fixed to the wall and when closed is just a mere 37 cm from the wall.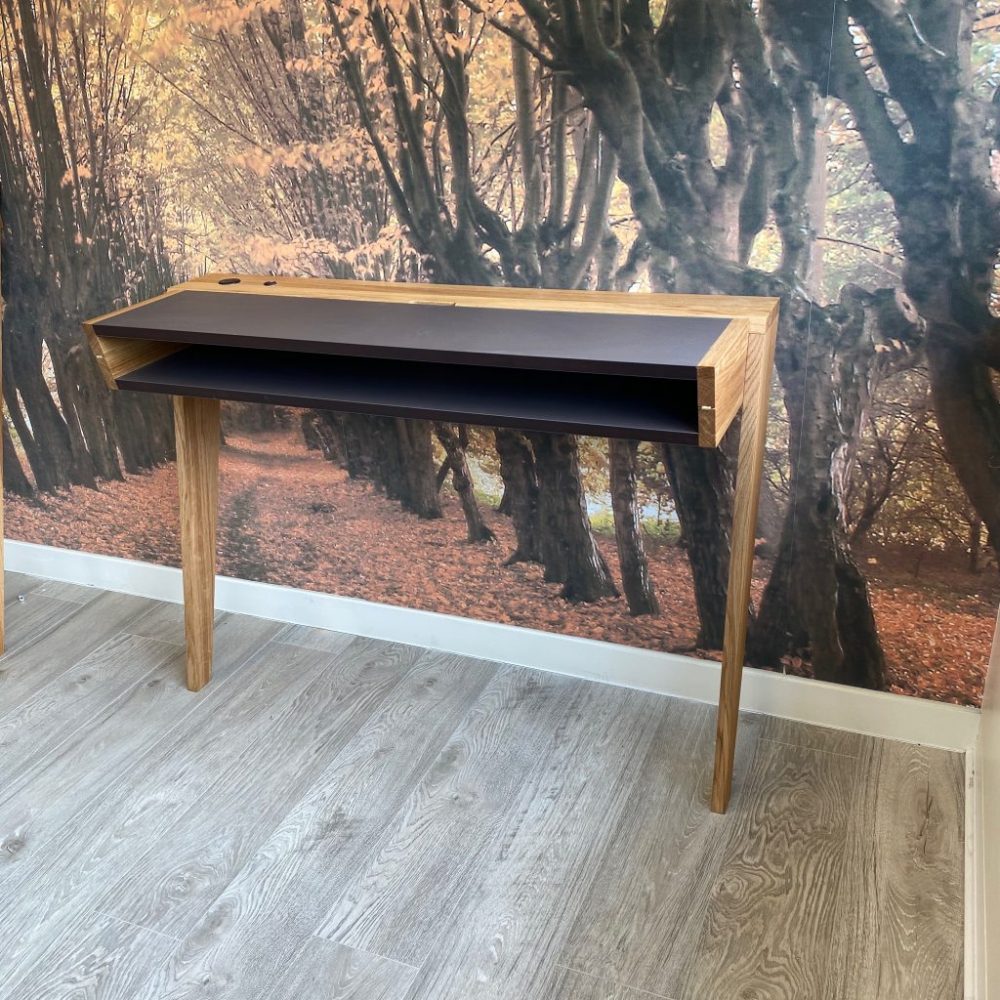 A Little Creativity Makes a Huge Difference
For many having a separate home office is the dream but simply not a reality. But don't let that put you off having that dedicated home office you've also wanted! A little creativity and some clever design can make even the smallest places like the lobby area above, a hallway or even under the stairs become the perfect working from home space.    
If you'd like to talk with us about custom-designing your new home workspace, you can contact us here or call us T 353 1 458 9877