As we come to the end of 2021, it's fair to say it's been a year with challenges for all of us in different ways. Living with Covid has meant we've had to adapt how we live, work, and socialise.
At Klimmek Furniture, like so many other businesses, we've had to work around lockdowns and restrictions, with commissions put on hold, projects taking longer than usual, and production, deliveries, and site visits all coming to a stop for a while.
However, once it was permitted, we were open again, completing the outstanding commissions, finishing the house refurbishment in Mullaghmore, and beginning work on projects from new commissions that had come in.
Focus on 2022
While it has been a year with challenges, we are focusing now on 2022. We had hoped that we might be seeing the end of covid, but it looks like it's here for a while yet. That only makes us more determined than ever that we can adapt as needed and ride out the challenges ahead.  And we can do that because we have a determined and talented team and we have you, our loyal customers.  
And in the words of Knut Klimmek
"I think what the last couple of years, and this one specifically has taught us is, that life is complicated and that we need to be ready to work our way through adversity. To do that we need to have a positive outlook and look after each other and our families especially. A personal thank you to all our staff for their efforts and positivity and to our clients for their generosity and understanding."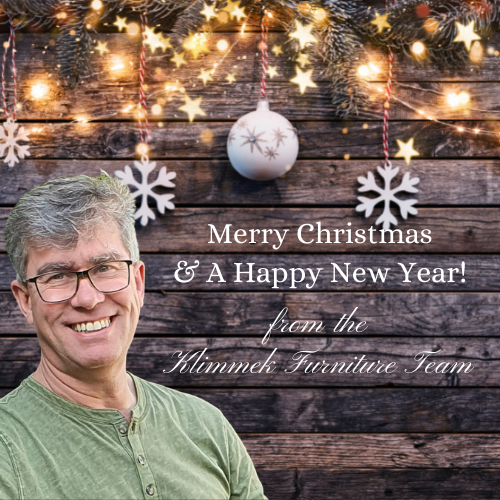 And so, as we say farewell to 2021, from all the team at Klimmek Furniture, we'd like to wish you a healthy and happy Christmas and we look forward to seeing you again in 2022.
Business Hours Over Christmas/New Year
We close the workshop on Friday 17 December at 5.30 p.m. and reopen again 8.00 a.m. 4 January 2022
Donations made to Focus Ireland and the Simon Community
To contact us
Phone: +353 1 4589877
Email: info@klimmek-furniture.ie