Estimated reading time: 2 minutes
The origins of Art Deco go back to the 1920s and 1930s when glass, chrome, plastic, and resin were used to create a new sleek elegance in architecture, art, and furniture. The movement was a pull away from traditional designs to one that was lauded as modern plus symbolising both wealth and sophistication.
The first pieces of Art Deco design were seen at the 1925 Paris "Exposition Internationale des Arts Décoratifs et Industriels Modernes" from which Art Deco got its name.
Today, Art Deco style furniture is built with streamlined looks, dark wood, high polished finishes, and curved form.
Related: Art Deco…Adding Modern Glamour to Furniture
Art Deco Designs from Klimmek Furniture
At Klimmek Furniture many of our designs lean to modernist furniture with art deco finishes. We work with solid and veneer timbers while also incorporating metal, stone, and glass into our design.
One example of a commission we received was to build a pair of Art Deco inspired shelving units. The client wanted the shelving units to sit on both sides of a fireplace in her home. The finished units which you can see below we made in figured walnut and fumed oak.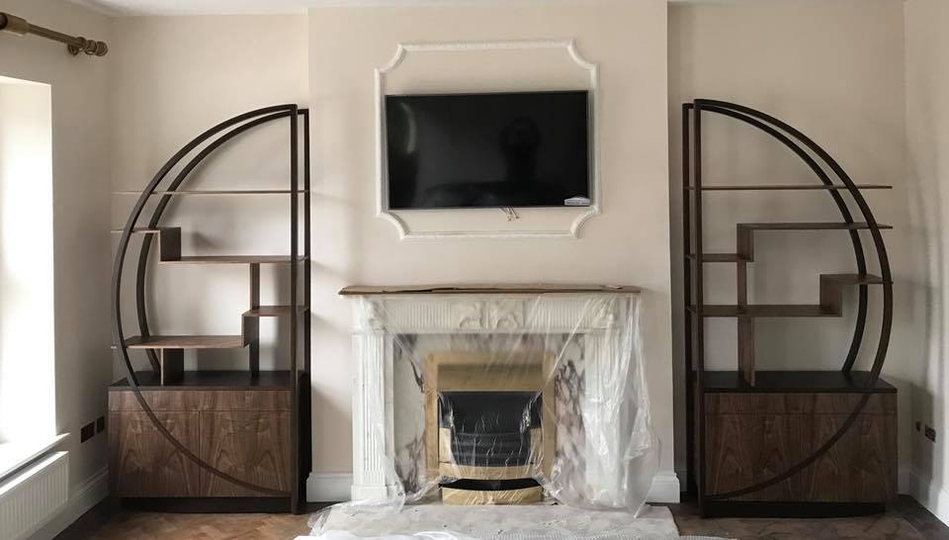 Art Deco Appeal
While Art Deco might have reached the height of its popularity back in the 1920's – 1940's, the style that mixes glamour, luxury, and order still has huge appeal for many. One of those is Barbara Streisand who incorporated Art Deco design from floor to ceiling in her Malibu home. While you don't need to do that, just adding an art deco inspired chair, table, or sideboard will go a long way in elevating the style in your home.
Want to know more?
If you'd like to talk with us about a furniture design idea that you have, do get in contact on T: 01 458 9877 or book a consultation via our website by clicking here